This fermentation journey proves more exhilarating with each episode.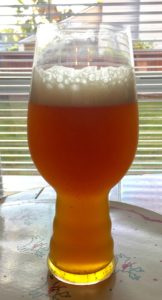 I am an IPA fan to say the least with hundreds of IPA beer reviews under my belt, literally.  IPAs continue to make up the largest segment of the still-rapidly growing craft beer market.  If the race for the most bitter beer leaves you in the dust longing for a less palate-assaulting ale, you may want to seek out the new kid on the block.  While New England or Vermont IPAs are not a true style (yet) they are taking the country by storm. The combination of features is garnering quite a following.  Here is what distinguishes a New England IPA from a classic American (especially west coast) IPA:
Less bitter. This is achieved by introducing lower amounts (if any) of bittering hops at the beginning of the boil.
More hop flavor and aroma, notably of the citrusy, juicy kind. This is due to larger amounts of these hops added near and at the end of the boil along with aggressive dry hopping during fermentation.
Haziness, due to some wheat/oats in the grain bill along with refraining from fining or filtering (clarifying) the beer.
The video below is a condensed journal of brew day. Experience the thrill of victory as well as the agony of brewer error resulting in equipment damage. In the end, however, a most delicious brew resulted as you will see in the second video.

And now, my review of my delicious brew!