9.1% ABV.   Brewed November 12, 2016.
While technically not a Russian Imperial Stout, rather Great Divide Yeti is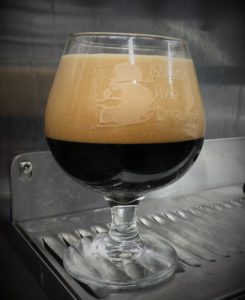 simply an Imperial Stout, I did make some additions to a clone recipe I somewhat closely followed. Somewhat.  My goal was to take an imperial stout I really liked and make it bigger, bolder, stronger, and with a noticeable sweet component.  Score! When I put this on tap on December 19 and drew the first glass – the heavy mouthfeel, complexity, flavor, sweetness, dark chocolate, coffee…to say I was pleased is an understatement.
This was one of two brews I did with my sons-in-law in mind as they and our girls were coming for Christmas.  Jamie, my younger daughter's husband, had expressed a fondness for the Marshall Zhukov from Cigar City I had on hand a few Christmases before – so this one was for Jamie, and he heartily approved.
Here is my review:

Watch this pour from my new Intertap faucet with the stout attachment!