My name is Fr5ed. I have been enamored with Craft Beer since 2011. It took a few experiences during the couple years leading up to that before the light bulb came on and I realized that beer with flavor and character was readily available and truly quite enjoyable. I said goodbye to weak, pale, mass-produced, industrial American lagers.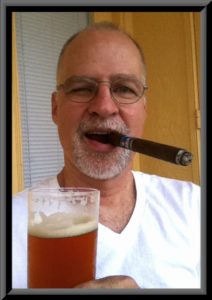 Note: the image to the right was an evening in the fall of 2011 as I sipped a glass of Sierra Nevada Torpedo. It was the exact moment that the veritable light bulb illuminated. I had been tasting craft beers off and on out of curiosity, but this was the moment where I was so enthralled by all the flavor that I made the switch from crap to craft.
I began experiencing as many new brews as I could while preventing my "check liver" light from flashing. The focus has been almost exclusively on IPAs. I call this journey Craft Beer Adventures and you can check it out (including hundreds of video beer reviews) here: www.fr5ed.com/cba.
I now embark on the ultimate adventure for a craft beer lover: brewing my own.