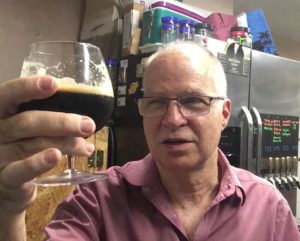 On my birthday this past June, I visited a brewery in Sanford, FL called Wops Hops (read/watch this experience here). One of the beers in the flight I enjoyed was a German Rauchbier, a style which originated in the town of Bamberg in the 1500s.  The barley was dried over an open wood fire and an intense smoke aroma and flavor was imparted to the ale made from it.
I was intrigued by this aroma and flavor and decided to brew some form of a smoked beer myself. I decided on a Smoked Porter as that seemed to be a popular choice.  I followed a well-regarded recipe and chose a cherry wood smoked malt for 21% of the grain bill.
It came out very nice.  A bit lighter than medium body with the smoky aroma and flavor more subtle than in the rauchbier that inspired it, it is extremely drinkable, even in the hot Florida summer. Cheers to my friend, James, a stout and porter lover from whose initials this brew gains its name.
Here is my description of this ale.