One of the steps in the brewing process is packaging your beer after
fermentation.  Most home brewers start out by bottling and often maintain that practice.  There are advantages to bottling such as portability.  (I'm trying to think of another.)  I hear about the prolonged labor of cleaning and sanitizing 48 bottles for a 5 gallon batch, then the tedium of filling the same bottles. I also hear about the bottle bombs.  In fact a friend at work bears several scars from being at ground zero of a bottle bomb.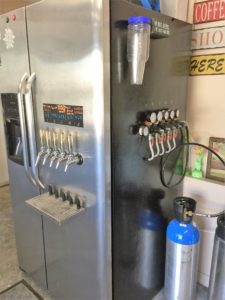 As noted on my home page – jumping into the home brewing world at my age led me to several decisions.  One was to skip over stove-top extract brewing and go all-grain.  Another was to invest in a semi-automated, all-electric brewing system.  Yet another decision was to precisely control fermentation temperature with a fermentation chamber I custom built (that's a post for another day) Today's post is a result of the decision to skip bottling altogether and go straight to kegging. NOTE: All these decisions have resulted in very drinkable and enjoyable brews without exception. Several have been downright awesome and one is my favorite beer of all-time forever. My BBF.  Best beer forever. (See Brew 009.)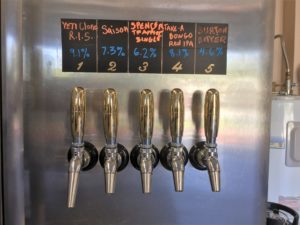 Watch the video below for a tour of the mighty Testosterator.  It is quite an experience to have 5 taps at the ready serving up personally created beers.