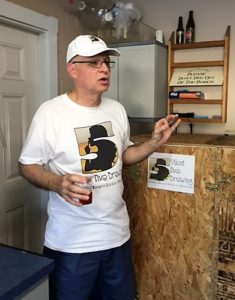 This past Friday after work I invited a very small group of folks over (4 guests) to sample my initial brews and "tour" the brewery.
Brews 001 through 003 are on tap and everyone got to have some of each.  IPA fans enjoyed the Rye Pale Ale and those who favor less hoppy ales liked the All Amarillo Pale Ale.  Everyone tasted the Oatmeal Stout, but I'm thinking it is a bit "bold" for most palates.  I do have a
couple who are dear friends of mine who had it a week or so ago and really liked it.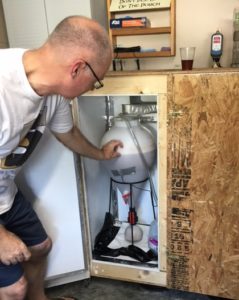 It was fun explaining the equipment and the whole brewing / fermenting process, though the kind students may have been finished listening before I was finished talking 🙂
Yes, that is some new Silent 5 swag I am sporting.  Couldn't help myself.